Author: Freego Group via YouTube
Go to Source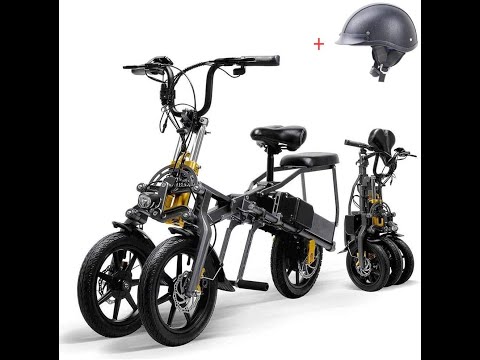 Model Freego EM-14K
14-inch Foldable Electric Tricycle with 48V, 7.8AH Lithium-ion Power Battery Max speed 30km/h, 30km range
It is good For Adults With Poor Balance Ability
Max speed 30km/h, Range 30km
Wheel with 14-inch Inflatable Tire
Three Wheels Electric Mountain Bike With A Helmet
Function & Features of Model EM-14K
[NEW CONCEPT DESIGN]
The inverted three-wheel structure has good passing performance and cornering stability, and excellent riding performance allows every user to enjoy the joy of riding. Those with poor balance ability and those who can't ride a bike can easily do it.
[ONE-SECOND FOLDING]
Say goodbye to the tedious folding steps, and truly achieve one-step folding. After folding, the body has a high degree of agreement, just push it.
[DUAL POWER SUPPLY 80KM LONG BATTERY LIFE]
High quality 18650 power cell, long service life and stable discharge. The built-in battery protection board can effectively prevent the battery from overcharging and over discharging. The dual battery can last up to 80 kilometers, and it can be used for work, travel, and leisure (This tricycle supports 2 battery packs. Each can go 30-40km. If using 2 battery packs, you can go 60-80km)
[ELECTRICALLY CONTROLLED THREE OIL BRAKES + POWER-OFF BRAKES]
Braking is the guarantee for the safety of the entire vehicle, while oil brakes are the braking method used on various cars. The safety of oil brakes is obvious to all, while braking, the power output is disconnected + physical brakes to minimize the braking distance.
[SUITABLE FOR THE CROWD]- Parents can drag children, front seats can be equipped with child seats, urban white-collar workers can be used as a transportation tool for commuting, healthy elderly travel, more suitable for fashionable young people. (Maximum load 150kg)