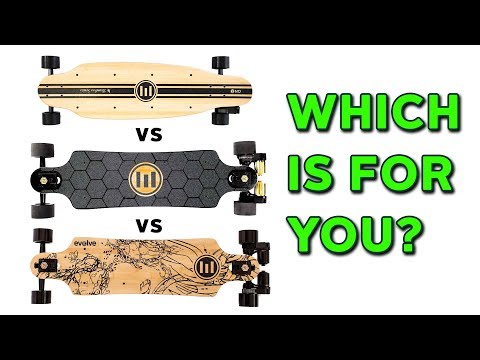 In this weeks episode we look at an Evolve Bamboo Series comparison to help you determine which is for you. The current Evolve skateboards bamboo series has three electric skateboards – The Evolve GTX the Evolve GT and the Evolve ONE board. We will be looking at doing a range of different tests including:
// a sprint test to determine speed and acceleration
// a slide test to determine manoeuvrability
// a big hill test to determine power
We also give the board to a rider who has never ridden an evolve skateboard before and ask them which evolve bamboo is best?
All the boards we used were setup in street configuration to standard specifications. We repeated each test multiple time and took the average result of all the test. In each test the rider was the same – using multiple boards.
In this evolve skateboard review we cover:
Sprint Test – The first test is a sprint test to see which was the fastest board over a 50 metre distance. This is a good indication os speed and acceleration. Each board did this twice
Slide Test – In this test we asked the rider to do a 180 slide to see how easy it was to manoeuvre the board. Each board did this test three times.
Big Hill Test – In this test we rode the boards up a 14 degree / 25% gradient hill. This is basically a very steep hill. It was also a long hill at 100 metres. All boards were in GT mode (PRO mode for the ONE). We did this test twice for each board.
First Time Perspective – We also include a perspective from someone how has never ridden an evolve electric skateboard, to tell us which is his favourite.
A little bit about each board:
GTX: If ever the Evolve Carbon GT and the Bamboo GT had a love child, this would be it! The Bamboo GTX series (X meaning Extras) combines the high performance attributes of the Carbon GT and morphs these features into a slick new looking Bamboo deck. We overhauled the Bamboo GT deck with a massive lithium battery whilst fine tuning the deck flex and laser cutting the grip-tape. We then oversized our Evolve GT street wheels to an all new 97mm sizing and blinged out the 3000 watt motors to a gold finish. What's the result you ask? The 'Mac Daddy' of electric bamboo boards capable of reaching speeds of 43km/hr with a huge battery range of up to 50km/charge and a sweet deck flex that allows for a comforting ride!
GT: We took the true longboard feel that made the bamboo models so popular, and combined it with 3000W of dual brushless motor power, the new GT remote featuring a digital LCD screen, and the new wider super-carve truck system for stability whilst enabling tight carves. Your ride will feel even smoother with Evolve's all new GT Series wheel – an 83mm hybrid of all that is good in our favourite skate wheels; grip, softness and durability.
ONE: Evolve Skateboards presents ONE, the single motor series inspired by our earlier generation Pintail and Snubnose designs which helped shape Evolve into what we are today. The bamboo deck has old school characteristics of both the Pintail and Snubnose designs with an added kicktail in the rear of the board with a medium flex allowing for a smooth ride. As far as performance goes, the Evolve ONE has a lot to offer! The powerful 2000 watt sensored brushless outrunner motor allows for a smooth acceleration and braking experience and up to 20% gradient hill climbing ability all on the single drive system. The custom lithium Ion battery gives the rider up to 35km range on a single charge and the new wider Super Carve Truck system allows for stability whilst being able to perform tight turns which lives up to our ethos of making insanely awesome carving machines!
LINKED EPISODES:
GTX vs Carbon GT: https://youtu.be/C4K4ImvUbvA
GTX Release Video: https://youtu.be/b0mQi_gnnbQ
One Board Release Video: https://youtu.be/-swB1Oa3DlU
SAFETY FIRST
Remember to be fully aware of your surroundings and ensure safety comes first.
SIGN UP FOR VIP UPDATES
Click here to join our mailing list: http://eepurl.com/zBc81
CONTRIBUTE TO OUR COMMUNITY
Want to be part of our next newsletter? You could be featured in our worldwide edition! Email us at info@evolveskateboards.com
WE WANT YOU
If you have any videos of your ride or customizations, we would love to see them. You can submit them here: https://goo.gl/forms/Y3IRyBirZkOLXNQJ3
We love seeing and sharing your rides and custom projects so please make sure to use the hashtag #evolveriders somewhere in your online posts.
MORE EPISODES
Check out more Evolve Weekly videos here:
https://www.youtube.com/playlist?list=PLOot_SrjcybxWf3ecADwJqQMX2u-tGOmw
PLEASE SUBSCRIBE 🙂
To subscribe to the Evolve YouTube channel: https://www.youtube.com/user/evolveSkateboards
Powered by WPeMatico
Evolve Bamboo Series Comparison – Evolve Skateboards Weekly Ep. 32